Custom SQL/PHP Database


Unique PHP database services customized to your needs at very affordable prices. www.clearimaging.com

Free Payment Gateway


Free Authorize.net merchant payment gateway account set up. Apply within minutes. www.Free-Auth.net

SEO Optimization


Search Engine Optimization tailored to your business for gaining top hits & rankings. www.webceo.com






To compete in the Internet, businesses need to process transactions quickly and securely. Authorize.Net's global payment solutions ensure both speed and security, providing unlimited transactions from nearly anywhere in the world which is linked to your web site payment terminal. Sign Up for a FREE eCommerce Hosting Payment Gateway account. Included with all Shared Hosting Accounts

FREE ONLINE PAYENT GATEWAY
FREE SET UP
FREE Authorize.net payment gateway
account, the leader in e-commerce
Sign Up >>

Our Partners at FreeAuthNet.com can provide your business with a FREE Authorize.net payment gateway account. To take advantage of this FREE gateway setup, you will need to utilize our internet based credit card merchant account. FreeAuthNet.com offer some of the very lowest monthly processing rates in the bankcard industry!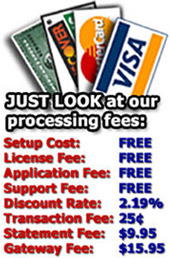 FREE Payment Gateway Account!
Increase your sales instantly. Research has proven that accepting credit cards can both increase your average ticket amount, and increase your overall sales by as much as 40% - 60%. Could your business use a major boost in sales? You bet it could!

Unbeatable Pricing on Transactions!
FreeAuthNet.com offers unbelievable pricing for nearly all business types... whether you own a large retail chain, small (or large) "mom & pop" home based business, even an internet startup! Our rates are guaranteed to save you money on all your payment processing needs!

Sign Up Now for FreeAuthNet.com
Sign Up Now - NO COST TO APPLY
~ No Application Fee
~ No Authorize.net License Fee

Sign Up Now >>


Clearview Hosting specializes in intensive Database Application development and complex Content Management Systems for for small business to large enterpise, allowing users to gain full management and control of the entire web site. See our Database Integration page.