Custom SQL/PHP Database


Unique PHP database services customized to your needs at very affordable prices. www.clearimaging.com

Free Payment Gateway


Free Authorize.net merchant payment gateway account set up. Apply within minutes. www.Free-Auth.net

SEO Optimization


Search Engine Optimization tailored to your business for gaining top hits & rankings. www.webceo.com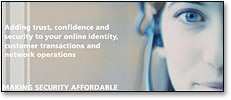 Secure your webserver and conduct safe e-commerce over the Internet with cost effective SSL Certificates. Clearview provides free shared SSL Certificates with any hosting plan for instant online integration.

We also offer full SSL Certificates for web sites with a dedicated IP Address for only $129.95 per year.



SSL enable your site with SSL Certificates. SSL (Secure Sockets Layer) the easily implemented standard protocol for transaction security - is an encrypted link between your Server and a Customer's browser. Once the link is established all communication between your Server and your Customer's browser will remain confidential.


| | | |
| --- | --- | --- |
| | SHARED SSL CERTIFICATES - FREE! | |

Clearview Hosting delivers you Industry standard SSL that are trusted by 99.3% of the current Internet users (see ssl browser compatibility details) - making our SSL Server Certificates as trusted as the more expensive providers. We provide free shared SSL Certificates with any hosting package, allowing you to instantly equip your web site with secure transactions giving your customers peace of mind on every purchase. If you need assistance with the installation of your SSL Certificates, please contact support.

| | | |
| --- | --- | --- |
| | FULL SSL CERTIFICATES - $129.95 | |

Secure your transactions and maximize budget efficiencies with an Enterprise SSL Certificate. Clearview Hosting recognizes that cost-effectiveness is a key requirement, no matter how large the company is, with the Enterprise SSL range starting from only $129.95 for a 1 year certificate - the most cost-effective enterprise specific certificates available with 99.3% browser recognition and 128-bit encryption as standard, providing the highest levels of peace of mind.

Contact Support for SSL Certificate Requests